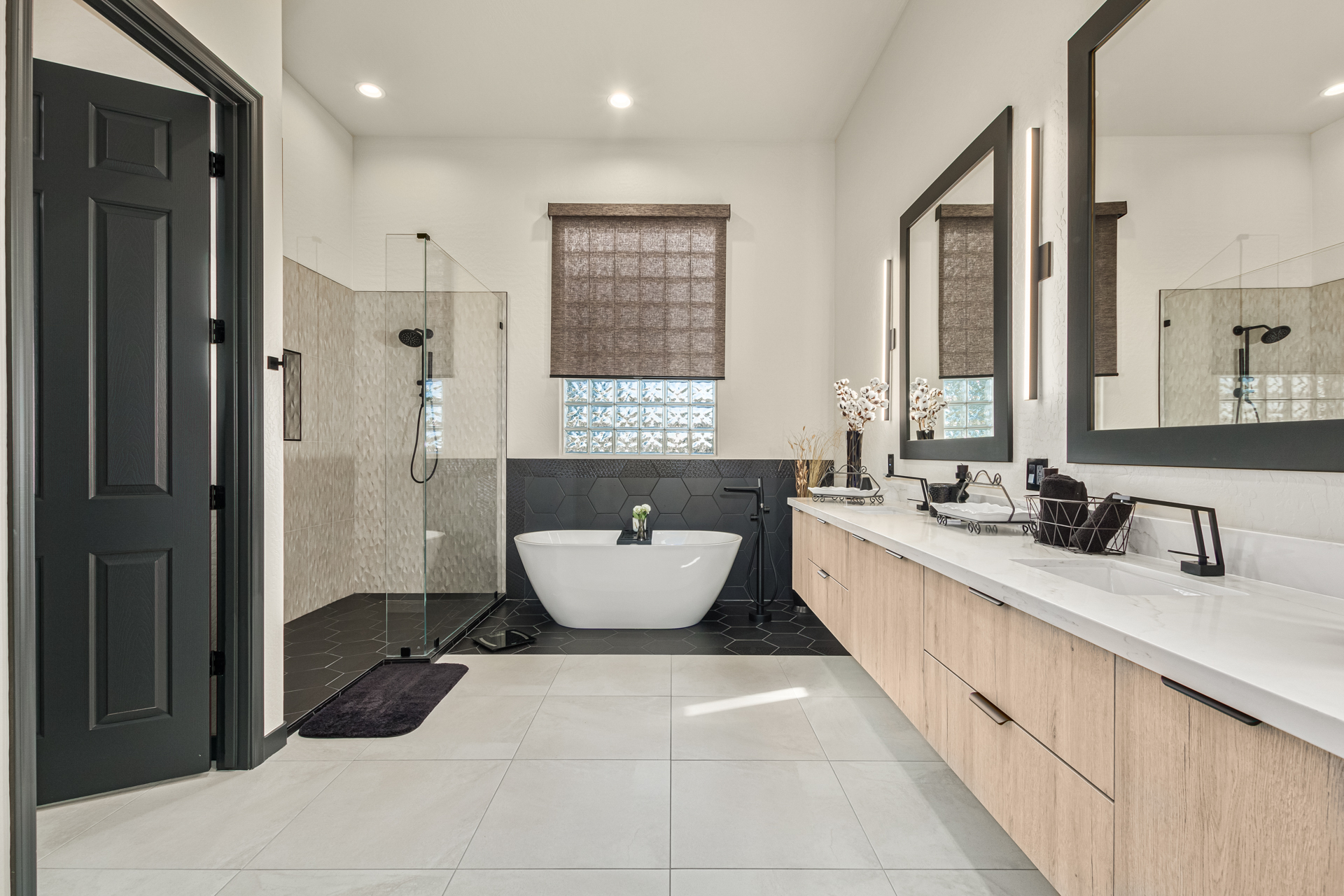 For many of us, our bathrooms are anything but a sanctuary. They're cramped, dated, and in dire need of an upgrade. If you're tired of your outdated bathroom, then it's time to consider a custom bathroom remodel.
You can design a space with all the necessary upgrades and amenities with a custom bathroom remodel. You can add extra square footage, install luxurious fixtures and finishes, and create an area that is truly your own.
Your Ideal Place to Relax And Unwind
Your bathroom is one of the most necessary rooms in your home—the better the ambiance, the better you can relax. Take a page from hotel spas and transform your bathroom into a quiet retreat.
With a remodeled bathroom, you will take time for yourself, light some candles, throw in a bath bomb, and fully recharge.
A spa-like atmosphere in your home will give you the space you need to slip away. There's nothing like bringing the spa into the privacy of your own home!
Get in touch and share your vision for your home with us by filling out our contact form. Send us some pictures of your space so we can get an idea about your vision. We'll get back to you with a phone consultation to discuss your project in depth.
Once every detail is in place, we will start working on your project. We'll keep you updated and in the loop with every change happening in your home. Relax as we bring your project to life.
Love Every Inch Of Your Home
Once your project is complete, your new home awaits. Enjoy your new spaces worry-free with our 2-year workmanship warranty and our 3-day, 3-week, 3-month, and 12-month follow-up plan.
Bathroom Remodeling Pricing
Transforming your house into the perfect home is our mission. Take a look through our pricing to see how we can help you achieve your hopes for your space.
Standard Bathroom Remodeling*
Ideal for a hall or small bathroom.
New vanity
Hardware fixtures
Flooring
New shower
Paint
Complete in 7 – 10 days.
Premium Bathroom Remodeling*
Ideal for a full-size bathroom.
Stock vanities
Hardware fixtures
Vinyl flooring
Tile shower
Paint
Lighting fixtures
Complete in 2 –  3 weeks.
Deluxe Bathroom Remodeling*
Ideal for a master bathroom .
Dual vanities
Hardware fixtures
LVP flooring
Walk-in tile shower
Paint
Lighting fixtures
Porcelain or ceramic tile
Accent wall
Custom carpentry
Complete in 3 – 5 weeks.
*All prices are averages and may change depending on the size of your bathroom and your choice of materials and appliances. You'll receive an exact quote for your unique bathroom renovation after the in-house consultation. All prices include your custom design and the complete build.
Let's Talk About Your Project
We are excited to hear more about your vision. Fill out our form and send us some pictures to help us better understand your project. We'll get back to you shortly.
How much does a bathroom remodel cost?
The cost of a bathroom remodel can vary widely depending on factors like the size of the bathroom, the materials used, and the scope of the renovation. Please check pricing tab.
How long does a bathroom remodel take?
The duration of a bathroom remodel depends on the complexity of the project. A simple makeover can take a few days to a week, while a more extensive renovation may take several weeks.
Do I need a permit for a bathroom remodel?
Whether you need a permit depends on the extent of your project and local building codes. It's important to check with your contractor to determine if permits are required.
Can I use my bathroom during the remodel?
In most cases, you can use a second bathroom if you have one, but during a major remodel, it may be more convenient to make alternative arrangements.
How do I choose a bathroom remodel contractor?
Look for experienced, licensed, and insured contractors. Ask for references, check online reviews, and get multiple quotes. Choose someone reputable and trustworthy.
What should I consider when designing my new bathroom?
Think about your needs, style preferences, budget, and the layout of your bathroom. Consider factors like storage, lighting, fixtures, and the overall functionality of the space.
What are the latest bathroom design trends?
Bathroom design trends can change over time. As of my last knowledge update in 2022, some popular trends included spa-like bathrooms, large format tiles, and smart fixtures. Consult a designer for the most current trends.
What's the difference between a full bathroom remodel and a bathroom makeover?
A full remodel involves changing the layout, fixtures, and possibly the structure of the bathroom, while a makeover focuses on cosmetic updates like paint, new fixtures, and accessories.
What's the most cost-effective flooring for a bathroom remodel?
Ceramic or porcelain tiles are often cost-effective and durable choices for bathroom flooring. Vinyl and laminate are other budget-friendly options.
How can I make my bathroom more energy-efficient during the remodel?
Install water-saving fixtures, energy-efficient lighting, and consider proper insulation to reduce energy consumption and lower utility bills.
Do I need to upgrade plumbing during a bathroom remodel?
Depending on the age and condition of your plumbing, you may need to upgrade it to meet current building codes or accommodate new fixtures.
What's the return on investment (ROI) for a bathroom remodel?
A well-done bathroom remodel can provide a good ROI, often around 60-70% of the project cost. However, the actual ROI can vary depending on location and the scope of the remodel.
Accordion TitleWhat should I do with my old bathroom materials and fixtures?
You can recycle, donate, or sell old fixtures and materials. Some companies may even pick up and recycle old tiles, countertops, and fixtures.
Accordion TitleWhat should I do with my old bathroom materials and fixtures?
You can recycle, donate, or sell old fixtures and materials. Some companies may even pick up and recycle old tiles, countertops, and fixtures.
Should I choose a bathtub, shower, or both in my bathroom remodel?
The choice between a bathtub, a shower, or both depends on your preferences and the needs of your household. Consider factors like space, convenience, and how you use the bathroom.
How can I create a bathroom with accessible features for aging in place?
If you plan to stay in your home long-term, consider features like a walk-in shower, grab bars, and wider doorways for future accessibility needs.
Remember that each bathroom remodel is unique, and the answers to these questions may vary depending on your specific circumstances and preferences. It's a good idea to consult with professionals, such as contractors and designers, to get personalized advice for your project.
What our clients say about us is something we value deeply. Let their words guide you in making an informed decision about who to partner with as your home remodeler.
Create A Bathroom You Can Relax In
Home renovation contracting team in Mesa & surrounding areas.