A Kitchen Made For Connecting
The kitchen is the hub of a home and the most used space other than the bathroom. It's where you can gather your family at the end of a long day and enjoy some moments together over a warm meal.
If you want to give your kitchen a touch of coziness or a feel that better represents you, then it's time for a remodel. Have your kitchen function the way you need it to, with enough space to fit everyone comfortably.
A kitchen remodel is one of the most effective ways to add value to your home. It can also be a great way to make your kitchen more functional and efficient.
A kitchen remodel is a significant investment but will pay off in the short and long run. With some planning and forethought, you can create a beautiful and highly functional kitchen that will add value to your home for years to come.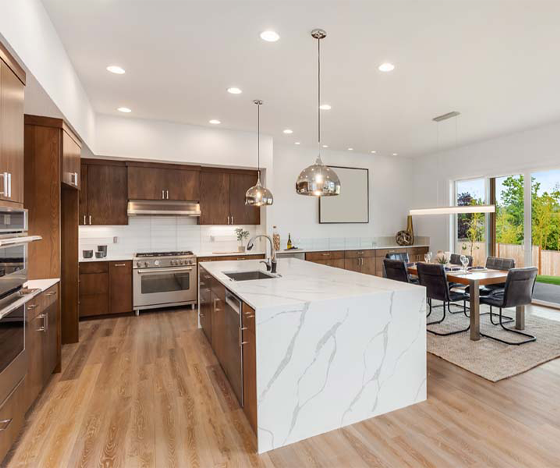 Get in touch and share your vision for your home with us. Send us some pictures of your space so we can get an idea about your vision. We'll get back to you with a phone consultation to discuss your project in depth.
Once every detail is in place, we will start working on your project. We'll keep you updated and in the loop with every change happening in your home. Relax as we bring your project to life.
Love Every Inch Of Your Home
Once your project is complete, your new home awaits. Enjoy your new spaces worry-free with our 2-year workmanship warranty and our 3-day, 3-week, 3-month, and 12-month follow-up plan.
Kitchen Remodeling Pricing
Transforming your house into the perfect home is our mission. Take a look through our pricing to see how we can help you achieve your hopes for your space.
*All prices are averages and may change depending on the size of your home, the kitchen design, and your choice of materials and appliances. You'll receive an exact quote for your unique kitchen renovation after the in-house consultation. All prices include your custom design and the complete build.
Depending on the scope of work for your unique kitchen remodel, it can take anywhere from 2-6 weeks or more to complete. 
To start the process of getting your kitchen remodeled, please fill out the form on our contact page.
The cost of a kitchen remodeling project ranges from $30k-$130k+, with the average remodeling cost being around $70k.
What our clients say about us is something we value deeply. Let their words guide you in making an informed decision about who to partner with as your home remodeler.
Make Your Kitchen Your Favorite Place In Your Home
Home renovation contracting team in Mesa & surrounding areas.